Confidential: Protect the personal health information you print by keeping it in a safe place. If you do not need it, shred it before you throw it away.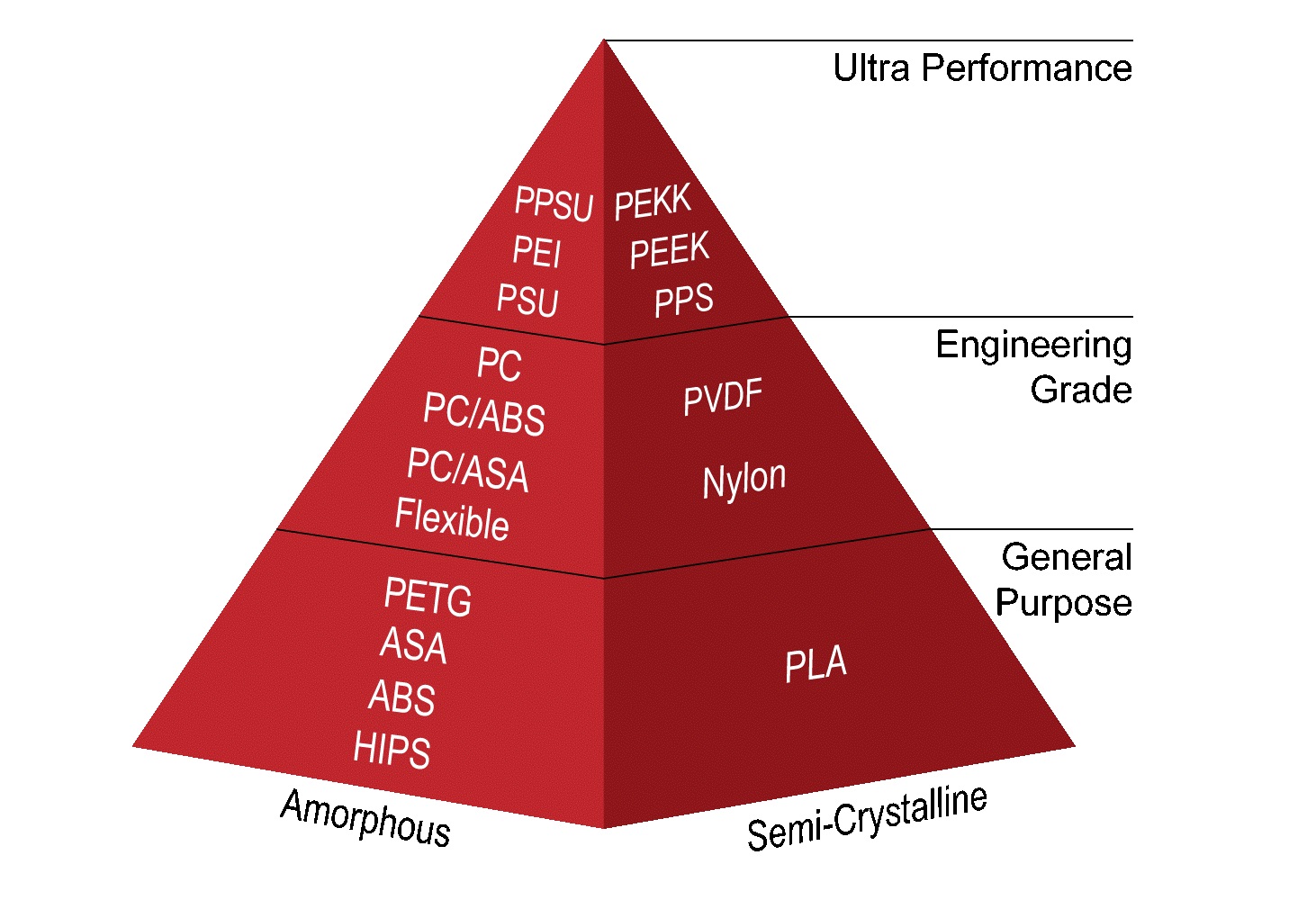 Polymers for material extrusion additive manufacturing: Part-4
---
Posted on
#Material Extrusion (FFF,FDM) #All applications #Aerospace #Mechanical #Fashion #Architecture #Health industry #All materials #Polymers
---
In this blog we will review the ultra-performance grade thermoplastics, which are mainly used for high-end industrial applications. The polymers of this grade placed at top portion in the pyramid of polymers image, seen in the above image. In our previous blogs on polymeric materials, we have covered introduction to polymers, general purpose and engineering grade polymers for FFF 3D printing, and this blog is the final post of that series.
Here, we explore list of commercially available thermoplastic ultra-performance grade polymers, and their applications and advantages. It is to note that the operating temperature of the below polymers is different and some of the materials require high-end FFF printers for processing.
Ultra-performance thermoplastics:

Materials
Applications
Advantages

PSU




automotive, aerospace, electronics, defense, food service, industrial, plumbing, medical




It is an amorphous high-temp polymer and has higher thermal properties, it is a great choice for demanding applications that require excellent thermal, mechanical, and chemical resistance properties




PPS




automotive, chemical processing, oil and gas, and electronics. making it an ideal material for electrical / electronics applications, aerospace thermoplastic composites, injection molding applications




high-performance polymer that exhibits exceptional chemical resistance along with high thermal and mechanical properties, inherently flame retardant and self-extinguishing, widely known as one of the most chemically resistant thermoplastic materials available, insoluble in any known solvent under 200°C, ability to withstand hot, humid, and corrosive conditions




PPSU




making it suitable for more demanding applications where higher loads and exposure to chemicals are prevalent. low-volume injection molds, under-hood automotive scenarios and heat, chemical, plasma and radiation sterilization




PPSU is one of the strongest FDM materials outside of our high-performance thermoplastics, offers strong mechanical properties are complemented by its heat and chemical resistance, strong, heat-Resistant and sterilizable




PEI(ULTEM)

can withstand autoclave operations associated with sterilization and composite fabrication tooling, aerospace and aircraft applications:

Ultem™ resins are used in applications, such as personal service units, oxygen panels and components, ventilation system components, connectors, cable ducts, latches, hinges, food tray containers, door handles, and interior cladding parts, automotive applications like transmission components, throttle bodies, ignition components, sensors and thermostat housings




offers superior tensile strength and excellent chemical and thermal resistance, biocompatible, possessing high heat resistance and thermal stability, exceptional tensile and flexural strength, making it an excellent electrical insulator, it is a high-performance polymer that combines excellent thermal properties, exceptional dimensional stability, inherent flame retardancy, and good chemical resistance




PEEK




used in the oil/gas, automotive, aerospace, industrial, and chemical processing industries, ideal for aerospace applications, exterior parts of aircrafts, medical and healthcare: biocompatible material, Handles of dental syringes, sterile boxes, load bearing implants




inherent flame resistance, outstanding mechanical, thermal, and chemical resistance, low smoke generation, excellent resistance to a broad range of chemicals




PEKK




suitable for aerospace applications, automotive, industrial and chemical industries for structural components including gears, bushes, friction bearings, shafts, ball valve seals, wear plates, yarn & thread guides, and small precision (rotational) parts. Because of its inertness and outstanding chemical resistance, PEKK is suitable for sterilization and therefore can be used for medical and food contact applications such as dental tools, medical body implants, and cookware




excellent mechanical properties that include high strength, high heat resistance, toughness and wear-resistance, chemical resistance and minimal outgassing, these superior qualities make it a lighter alternative to aluminum and steel, because of PEKK's excellent mechanical properties, including high stiffness, high toughness and long-term creep, fatigue and wear resistance, mechanical parts made of (fiber reinforced) PEKK can replace steel in many applications