Confidential: Protect the personal health information you print by keeping it in a safe place. If you do not need it, shred it before you throw it away.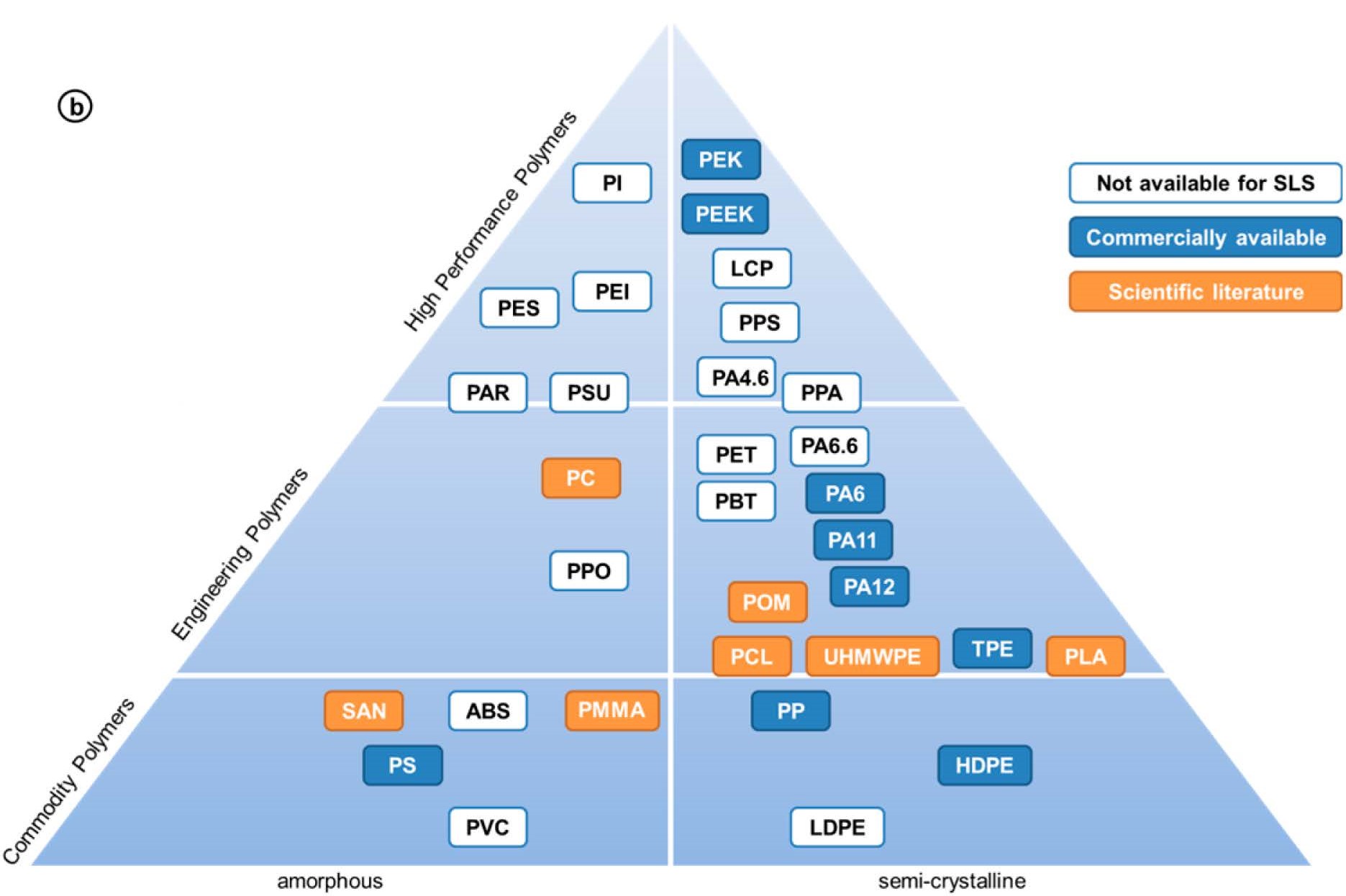 Materials for selective laser sintering additive manufacturing: Part-1
---
Posted on
#Powder Bed Fusion (SLS,SLM,,DMLS,EBM) #All applications #Aerospace #Mechanical #Fashion #Architecture #Medical device #Health industry #All materials #Polymers #Composites
---
Selective laser sintering (SLS) can process a wide range of polymeric materials, including functional materials for end-user parts. Polymeric materials in the form of powder is used for 3D printing using SLS 3D printers.
What is SLS additive manufacturing?
Selective laser sintering (SLS) is one of powder bed fusion (PBF) AM process, which is mainly for processing for polymers and polymer based composite materials. In SLS process, the laser radiation is absorbed and affects the local heating of the powder particles, causing softening, melting, and solidification of adjacent particles. Throughout the described procedure, the process chamber is kept at an elevated temperature, a few degrees below the processed material's softening point. This process uses lower power lasers for sintering compare to other PBF processes (DMLS, SLM, EBM).
Materials for SLS 3D printing
Powder materials for SLS can be distinguished into polymer-based powders and powders for direct sintering of metals and ceramics, with the polymer-based systems comprising pure polymers and composite materials. The polymeric phase is mainly a semi-crystalline thermoplastic, but may also be an amorphous thermoplastic, a two-component thermoset, or an elastomeric material. In this post, our focus is limited to only polymer-based powders.
Polymer based powders for SLS process
Limited number of powders for SLS are offered on a commercial basis (highlighted in blue in above Figure). However, the materials used for SLS process is comparatively larger (highlighted in orange) in scientific community, and researchers are continuously struggling to widen the available portfolio. The limited commercial success of many of these powders is attributed to the high demands set for materials development due to the complexity of the processes involved in fabrication, characterization, and processing of powders for SLS.
List of commercially available polymer-based materials for SLS:
General purpose grade: PS, PP, HDPE
Engineering purpose grade: PA11, PA12, PA6, TPE
High performance grade: PEEK, PEK
The above image, pyramid of polymeric materials, illustrates the range of polymers that are available commercially and the polymers used by scientific community.